Friday, April 29, 2005
Next update on Monday, May 2
I'm going to the West Point meet this weekend (running M40). The next time I plan to update this page is Monday, May 2. posted by Michael | 7:06 AM

---


Thursday, April 28, 2005
How would you know if the strategy was good?
The comments from yesterday's post bring up an interesting issue -- how would you know if Nordberg's strategy was good?

The answer is simple in concept. If Nordberg's strategy of taking the lead and breaking away increased the probability that his team would win, it is a good strategy.

If you had a bunch of data you'd be in better shape to answer the question. How many teams win if they are behind at the end of the Long Night?

I don't have the time or results lists to really look at it carefully. But, I took a quick look at the Tio Mila results pages for 8 years between 1995 and 2005. Here are how the winning teams stood at the end of the Long Night: 1, 8, 1, 25, 5, 4, 11, and 7.

You don't have to be in the lead at the end of the Long Night to win, but it looks like it helps.

Another way to think about strategy is to ask -- Does the strategy seem obviously bad?

If Petr Losman had tried to break away from Tore Sandvik, perhaps taking a different route on a long leg, would that have been a good strategy? Probably not. Losman's best chance was almost certainly to stay right on Sandvik's back and try to out run him on the finish chute.

Another way to think about a strategy is to ask -- Does the strategy increase the team's options? Being alone in the lead clearly increases the options. If the guy who ran after Nordberg wanted to go out alone, he could. But if he wanted someone to run with, all he had to do was wait.

Obviously I haven't thought about this very much, but I'm sure there are lots of other ways to think about strategies. I suspect that most of the systematic approaches to thinking about the strategy will lead you to conclude that Nordberg's approach was sound. But a sound strategy isn't always enough. Kristiansand OK didn't win. But, failing to win doesn't mean the strategy was wrong. posted by Michael | 7:35 PM

---


Wednesday, April 27, 2005
Nordberg on his Long Night
Anders Nordberg wrote about his Long Night from Tio Mila. Nordberg went out with a pack (a couple of minutes behind the lead team), the pack caught the leader, then Nordberg broke away. He came to the exchange with a lead of 2:26.

Look down this page a bit to see the map of the leg where he got away.

Nordberg was part of a 12 man pack at the lead of the race when he came to the 11th control. Here is his description (with my quick and rough translation):



At the 12th control I'm last in the line. I see right away that the leaders decide to go around to the left. I know that I want to try my own route, but I don't decide to go straight over the hill until I'm on my way out from the 12th control. Going over the hill I'm unsure if I'll gain time with my route choice. The forest is thicker as I get closer to the control, and I get a bit nervous. I continue a little more cautiously following my compass when the forest opens up and I see the control. I see the lamps from the other runners coming up while I push toward the next control. I don't look back until I'm on the road on the long leg to the 15th control -- when I see that I'm alone in the lead.



Coming in to an exchange in a relay with the lead is a great feeling. I've done it once and the memory is still strong.

Coming in to the lead after the Long Night at Tio Mila must be an amazing feeling. posted by Michael | 7:28 PM

---


Tuesday, April 26, 2005
Race from a couple of weeks ago
I'm finally getting around to writing about the classic day at the team trails in Ohio a few weeks ago. The map below shows the M40/F21 course with Peter Gagarin's routes. Click on the image for higher resolution.

The reentrants on this map (just like on the maps from the first two days) are deeper and steeper than they look on the map. It can make the orienteering more interesting because it might be worth going a bit out of your way to avoid some of the gullies.

I started a few minutes behind Nadim and caught him at 4. From 4 to the finish we saw each other a lot. We took some different routes but neither of us could get away. Running head-to-head is fun.

Sometimes running with someone makes you work harder than when you're alone. I ran with a heart rate monitor, which gives me a measure of how hard I was working. When I was running head-to-head with Nadim my heart rate averaged 170 (and the curve shows a steady effort). The previous day, when I ran on my own, my heart rate averaged 173 (again with a steady curve). So, I guess running with Nadim didn't get me to work harder than I'd worked on my own the day before.

Both of those average heart rates are a bit higher than I normally race at. I think that's a reflection of the footing. Both days there was some slippery, muddy footing. I think that sort of footing forces you to work more muscles (e.g. your bakc and arms work harder), which might raise your heart rate. Or maybe I'm wrong about that.

I enjoyed the course. There is some variety in the leg length, direction, and terrain. A really long leg might have been nice, but in looking at the terrain I don't see any good ways to get in a 1.5+ km leg. Running through the finish area (on the leg to 13) was fun for people watching the race and for those of us running. posted by Michael | 8:01 PM

---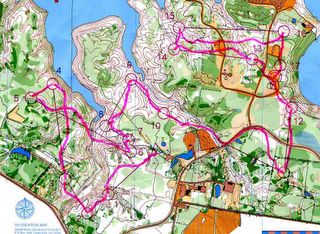 M40 (and F21) course at the team trials in Ohio. Peter Garagin's routes are shown. posted by Michael | 7:56 PM

---


Monday, April 25, 2005

GPS tracking from the Long Night. Anders Nordberg (red dot) got away from the pack on this route choice. posted by Michael | 7:45 PM

---
A couple more Tio Mila thoughts
It is hard for someone sitting in North America to understand how big Tio Mila is. By "big" I don't mean the number of runners or teams. I mean how important it is for clubs.

I ran four Tio Milas for three different clubs. For each of those clubs, Tio Mila was what we thought about throughout the winter/spring. You dragged yourself out to cold, wet night O' session because you wanted to be ready. You killed yourself on the run-in of every race because you didn't want to finish behind a club mate and risk losing a spot on the Tio Mila team.

Tio Mila brought out the supporters for the club. Orienteers who were a step too slow or a few years too old still went to the race. But instead of running they cooked food and helped make sure runners were ready on time.

I suppose Tio Mila gave the feel of a team sport to a bunch of us who picked an individual sport.



Some Videos



Swedish TV has some nice coverage. Click here.
It is all in Swedish but you get some nice images from the race, including: Simone Niggle-Luder putting on the GPS, the start, some great shots of night orienteering (including Anders Nordberg getting away from the pack), Petr Losman hanging on Tore Sandvik and then getting away on the run-in, and a very short interview (in English) with Losman.

Losman is fast, check out this video. This video begins with some shots of Losman jogging around, then they show the last leg and run-in of some sort of relay (no idea what race it is) where you can see Losman moving fast.

You can also poke around the Sodertalje Nykvan Orienteering video collection. posted by Michael | 7:36 PM

---


Sunday, April 24, 2005
Some Tio Mila thoughts
I spent a lot of time sitting in front of the computer following Tio Mila. A few thoughts:



Map reading frequency

. If you had loads of video of orienteers in action you could get a good idea of how often orienteers look at the map and how long they look at it. You could get a sense of this while watching Tio Mila. Some orienteers -- Thierry Guergiou being a prime example -- look at the map by taking a lot of quick looks. Others take long looks, then run for a while without looking again.



GPS coverage

. Some of the top runners carried GPS devices that let those of us at home follow their progress. The technology seemed to work well. A little dot moving across the map with a couple of little dots chasing it showed us Anders Nordberg pulling away on the "Long Night." I liked being able to see that Nordberg was taking different routes than his chasers. Nordberg generally ran straighter while the chasers took trail routes.

The organizers gave runners the choice of whether or not to wear the GPS. Unfortunately, a lot of the runners decided not to carry the GPS. Too bad.



Law of Competitive Balance

. The "Law of Competitive Balance" gives you a few teams to watch for next year. Kristiansands OK was DQd (for taking the wrong map at an exchange near the end of the race). They've got to be disappointed and looking forward to next year. Halden SK had won the last six Tio Mila races. They finished second this year. You can bet they'll be training a bit harder next winter. Kalevan Rasti chased well, but came up third.



Glasses?

. Meaningless data -- only 2 of the top ten women on the last leg wore glasses while running. But, those two finished 1st and 2nd.



Craziness on the run in

. I don't think the problems on the run in on the last leg decided the result (Losman from Sodertalje passed Sandvik from Halden on the run in when Sandvik began running down the wrong finish chute). Even if Sandvik had run in the right lane I think Losman would have gone by him. But, I guess you never know.

The Halden newspaper quoted Peter Thoresen, "The run in should have been marked better. That wasn't a good way to decide a relay."

I was reminded of a Tio Mila back in the late 1980s or early 1990s. Melker Karlsson and Jarmo Raimen were together at the last control. Karlsson was a couple of steps ahead. But Karlsson didn't follow the marked route to the finish chute. If I remember correctly he ran through an out of bounds area. He wasn't disqualified because the tapes marking the area out of bounds were already broken down. Karlsson probably lost time as the out of bounds area was quite rough. Raimen won the sprint.

That same Tio Mila one of the teams from my club was disqualified for taking the wrong map (just like KOK this year).

There are some lessons from history....carefully check out the run in and be

very

careful at the exchange to make sure you get the right map. posted by Michael | 6:02 PM

---


Saturday, April 23, 2005

I spent a lot of time today following Tio Mila's online coverage. I made a "Long Night" pizza for dinner. posted by Michael | 6:49 PM

---


Friday, April 22, 2005
The Okansas Tio Mila Team
Each year I pick an Okansas Tio Mila team. I draw on friends, club mates and okansas readers. Here is this year's team:

1. 11.4 km, day and dusk.

Sanna

. Sanna traditionally runs the first leg for OK. She's a strong runner and has a lot of experience running the first leg. I haven't checked the start list, but there is a good chance Sanna is running for IF Thor at this year's race.

2. 11.4 km, dusk and night.

Nadim

. Nadim has become a member of the OK family (though he still competes for Quantico OC). Nadim and I ran head-to-head at the race in Ohio a few weeks ago. The last time we ran head-to-head, Nadim skipped a control. In Ohio he didn't.

3. 11.4 km, night.

Michael Eglin

. Eglin becomes the first Swiss runner to ever make the OK Tio Mila team. Congratulations.

4. 6.8 km, night.

Gene

. Gene is looking for revenge. Last weekend he ran on the OK relay team and mispunched. He's hungry.

5. 17.1 km, night.

Mook

. Mook is OK's strongest runner. The "Long Night" isn't forked. We'll have to keep an eye on Mook, though. He showed up for a night O' race a week or two ago without his headlamp. You can't go out on the "Long Night" without a headlamp.

6. 6.8 km, night.

Mary

. Mary ran well at last weekend's relay race in St Louis. She's also defending U.S. F40 Night O' Champ.

7. 7.9 km, night.

Dan

. Dan? What's up with Dan? He's been working a lot the last few months. He hasn't been training much. I'll give him a short leg and hope his will of steel carries him around the course.

8. 10 km, night and dawn.

Michael

. I'll take this leg. I've run several Tio Milas and Jukolas. I've had my best races on legs in the very early morning. Personally, I'd rather run the 7th leg (it is a bit shorter and all night), but I'm in better shape than Dan to cover the full distance.

9. 10 km, day.

Tom C

. Tom earned a spot on the team by being tough (you gotta be tough to orienteer in Texas). He gets a day leg so that the other teams will see him in his "speed suit" and be suitably impressed and intimidated.

10. 16.2 km, day.

Magnus

. Magnus is a strong, steady orienteer. He does a lot of adventure races. He might not have the leg speed of some of the other anchor leg runners, but he'll have the endurance. I put Sanna and Magnus far apart on the team to make it easier for them to take care of Moa.

1st reserve:

Patrick

. Partick almost earned a spot on the team this year. His dedication and loyalty to OK despite living in Seattle should be rewarded. He almost took Mary's spot. Maybe next year.

2nd reserve:

Johan Modig

. Modig earned a reserve spot when he added some interesting comments to an analysis of his training I wrote a couple of months ago.

The hardest part of picking the Tio Mila team is telling people they haven't made the final cut. Instead of running on the team, they'll be supporters and coaches.

Supporters/coaches: Peggy might have made the team, but she's been hobbled by injuries (a broken toe and a turned ankle). Fritz almost made the team. His soccer coaching skills will transfer well to coaching the OK Tio Mila team. Aaron A. deserves a special spot -- he'll ccordnate travel (just like the trip to the Texas meet a couple of months ago) and arrange for an official pizza sponsor. Aaron might have a better chance to make the team if he wasn't an employee of the Mizzou athletic department. Other officials include: Raymond, Terhi K (who might be running for Tampereen Pyrinto this year), Mikell, JJ, and Melissa M. Peter might have grabbed a coach spot, but he's devoting his energy to the U.S. sprint series. posted by Michael | 7:34 PM

---


Thursday, April 21, 2005
Pasi's questions
I check out Pasi Ikonen's web page a couple of times a week. His training log is always interesting.

He posed a few questions a week or so ago:



Should I already start writing columns, or should I wait until my own "career" is over? I am fixated by the idea that my own sports may suffer from that kind of activities. Is it stupid to tell how you should do things and on the same time try to do them by yourself on top level?



Would it hurt Pasi's chances to reach his best if he spent time writing about his orienteering?

Personally, I hope Pasi keeps writing. But, I guess the answer to his question is -- "it depends." Bjornar Valstad managed to combine a lot of writing about his orienteering with performing very well. On the other hand, you don't see all that many top elite athletes who write much while they're at the best.



Tio Mila Weekend



Tio Mila weekend is coming up! Check out old maps from the terrain. posted by Michael | 9:12 PM

---


Wednesday, April 20, 2005
Forest Park relay
A few quick notes about the Forest Park relay race (see parts of my course below):

1. The park was full of people. It was a blast to run through people hanging out in the park, sunbathing, and playing softball or frisbee. On the way to the second control I huffed and puffed past a bride and groom having their photo taken.

2. The park was also full of cars. Crossing the roads was scary. You had to be careful, look for places where you'd be seen and where you could get through the traffic safely. I was hit by a car when I was about 22 years old. It hurt. I took care getting across the streets. The organizers had people on the course with flags they'd wave, stopping traffic so runners could cross. That certainly helped.

3. The courses were forked. Most relays in the U.S. don't use forked courses. This caused more than a few DQs. It also spread the teams out a lot -- more than I'd have guessed given the straightforward orienteering and good visibility.

4. I had a good run. I was essentially alone, though it turned out a passed several teams without noticing. Unfortunately, our team was DQ'd for a mispunch on the first leg. Bummer, but the race was still a lot of fun.

5. You can see a quick time video of the start (not quite as impressive as a Jukola start) over at ourmedia.org/node/7293. posted by Michael | 7:27 PM

---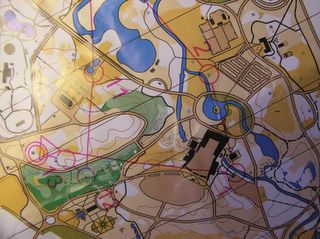 posted by Michael | 7:25 PM

---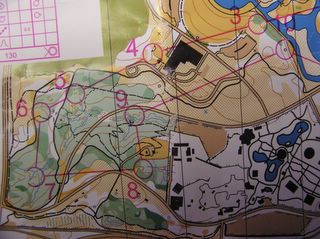 posted by Michael | 7:24 PM

---


Tuesday, April 19, 2005
Good race at Cliff Cave
I had a good race (and a good result) at Cliff Cave. I ran the M21 course for this middle distance one-day race. And I won M21!

The field was small. But, a win is a win.

The top of the result list looked like this:

1. Michael Eglinski
2. Michael Eglin

I had a good race. I took safe routes. I orienteered "100 meters in the future." I worked hard.

I lost a little time in two places when I had trouble with my glasses. I like to wear clear glasses when I orienteer, especially when there is a chance of a branch hitting my eye and scratching my cornea or pushing my contacts out of place. Cliff Cave was good terrain for glasses. Wearing glasses let me push through some of the green areas without slowing down as much as if I had run without the glasses. At two points a branch hit me in the face. Once my glasses went flying and the other time one of the lenses popped out of the frame. I stopped both times, spending a few seconds getting the glasses back in place.

One of the places I lost my glasses was at point 5 (just off the map clip below). My glasses flew off near the control. I stopped, found the glasses and put them back on. I was a little unsure of exactly where I was, but I headed in the right direction and looked around. I spotted the control. It wasn't a spike, but I didn't lose much time. Others lost a lot of time at that control, complaining of a sketchy map. I'm not sure. I may have gotten lucky.

Cliff Cave is interesting terrain. I haven't seen other maps of this sort of terrain in the U.S. I suppose there is lots of this sort of sinkhole terrain, but it probably hasn't been mapped for orienteering. posted by Michael | 8:11 PM

---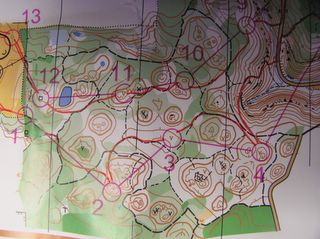 Part of the M21 course with my routes. posted by Michael | 8:06 PM

---


Monday, April 18, 2005
How about that old map
April 15, 1984, I ran a meet at a place called Rudolph Bennitt. I think that was the last time the park was used for orienteering.

April 15, 2005, I returned to the park with my 21 year old map.

I'd remembered Rudolph Bennitt as being a nice area to orienteer and the map as being good. I wondered if it had help up all these years (Mike Meenehan made the map in 1978). I've been meaning to drive to the park and check it out for a couple of years now. But, it is a good two hour drive and I'd never gotten around to it. The drive to St Louis seemed like the perfect opportunity for a quick visit.

I was sure the area would have changed. There would be some new trails. Some old trails would have disappeared. Would the forest be thick with undergrowth? Maybe the park had been heavily developed? Maybe the entire area was logged?

The biggest question mark was the contours. Would contours drawn in 1978 be any good? My memory (and my notes from the 1984 event) suggest that the contours were good.

I was pleasantly suprised. The area doesn't seem to have changed much. The forest is mostly quite runnable (not as nice as Knob Noster, but nicer than most of the terrain around Kansas City). The contours are decent.

The 1978 map would make a good basemap for an updated orienteering map. With some careful course setting and a few map corrections, I think the map could be used as is.

Take a look at a small portion of the map below. posted by Michael | 8:01 PM

---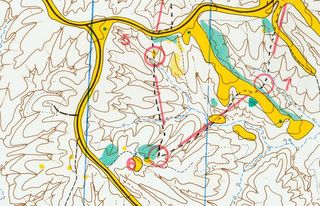 A bit of the 1978 map, with Alan Edmond's routes. posted by Michael | 8:00 PM

---


Sunday, April 17, 2005
back from St Louis....but tired
I'm home and I'm tired. I don't have the energy to write much. The highlights:

1. On the drive to St Louis,we explored a map last used 21 years ago. Was it any good?

2. I had a good middle distance race, with a very good result.

3. I had a good relay race, but our team was DQ'd after a mispunch on an earlier leg.

4. I had a terrible day today -- running slow, booming a lot (I mean a lot), and finishing something like 16 minutes back. posted by Michael | 7:53 PM

---


Friday, April 15, 2005
Next planned update on Monday, April 18
I'm going to the St Louis A-meet and don't plan to update this page until Monday (there's always a slim chance I might update it before then).

The St Louis event should be fun. They've planned an interesting format. Saturday begins with a middle distance race then we go to Forest Park for a park-O' relay. Sunday is a regular classic distance race.



The Next Possum Trot



It looks like next year's Possum Trot (a long distance mass start event in December) will be at Bluff Woods. PTOC has a mapper who's been fieldchecking the area. It'll be difficult work because the base map is not very good.

Look for lots of big hills and lots of nice open forest (though there is some thick stuff, too). I shot a short video of Mikell Platt running through some of the nice forest a few weeks ago. We'd gone to the park to jog and to pick up some controls from PTOC's 9-hour night rogaine. You can go here to see the video. From there, click on the link for the 687.7K quicktime movie. posted by Michael | 7:43 AM

---


Thursday, April 14, 2005

Late breaking news....a new world record in control picking coming up in early May. Here is the web page for info: posted by Michael | 7:38 PM

---
More on planning
Judging by the number of comments on what I wrote a couple of days ago, planning seems like a worthwhile topic.

Let's start by limiting "planning" to what goes on during a race. Planning can also be about how you design your training or pick your goals or whatever, but I'll stick with a single race.

I think there are two distinct types of planning: planning for the leg you're running and planning for later parts of the course. I don't have good names for these two types of planning. For now, I'll just call them planning 1 and planning 2.

Planning 1 is about finding the control you're looking for. Think about running a leg. You look at your map and plan something like this -- I'll follow the trail about 100 meters, down two lines; then at the bend, I'll head off into the forest to the north; I'll look for a two line knoll with a boulder on the tip of it; just beyond the knoll, I'll see a small marsh, that's where the control sits.

Planning 2 is about the rest of the course. Think about running the leg I described above. Planning 2 would happen as you run the 100 meters on the trail. You might unfold your map and take a look at the rest of the course. Maybe you see a long leg in the last few kilometers and you spend some time looking at the route choice options. The idea with planning 2 is that when you reach that leg, you've already decided what you're going to do.

In my experience, planning 1 is a fundamental skill for orienteering. You've got to be able to do it to orienteer well. If you do it, you'll avoid big booms. Planning 1 is what Theirry Gueorgiou is talking about when he says you should orienteer 100 meters in the future.

In my expereince, planning 2 is a good thing, but not a fundamental skill. If you do it well, you can save some time. Planning 2 is what Kent Olsson is talking about when he says he looks ahead when he can.

If you don't use planning 1, you probably won't find the first control. You'll get lost and lose a couple of minutes (or more).

If you don't use planning 2, you might have to stand still for a few seconds trying to decide how to run that tricky leg when you reach it in the last few kilometers. Maybe you'll stand still for 30 seconds trying to make up your mind.

My brain doesn't seem to handle switching between these two types of planning. If I'm running along that trail and start looking ahead, whooops, I run too far and miss the place I was supposed to leave the trail. I have trouble switching back and forth between orienteering 100 meters in the future and orienteering 2 or 3 kilometers in the future. Kent Olsson doesn't have that problem. I'm no Kent Olsson.

One reason I favor (and am better at) planning 1 is that I learned to orienteer in Sweden. If I'd learned to orienteer in England or Switzerland, maybe I'd have mastered planning 2. posted by Michael | 7:07 PM

---


Wednesday, April 13, 2005
Some quick notes
I'm feeling a bit tired, a bit worn. I hope I'm not getting sick (just days before the St Louis A-meet). I don't think I am. But, to be careful, I'll go to bed soon.

Today's post is just a couple of links:

Brooner.co.uk is a slick web page with lots of O' maps. Click on the "o-ing" link and then look at "races" to find some maps. It is always fun to look at maps.

I bought a book yesterday, Freakonomics by Levitt and Dubner. Levitt is an economist who has done some really intersting work. Dubner is a writer who worked with Levitt on a couple of articles published in the NY Times.

I've read the first dozen pages or so. So far, so good. But, then again, I'm interested in using economic thinking to think about problems like cheating (one of the first topics addressed in the book).

If you poke around the Freakonomics page you'll find a link to "articles" that'll give you a taste of what the book is about. posted by Michael | 7:20 PM

---


Tuesday, April 12, 2005
Good and bad advice
"What was the best advice I ever got about orienteering?"

That seemed like a good topic for today. But, as I thought about it I couldn't answer it. Maybe if I give it some more thought.

So, how about -- "What was the worst advice I ever got about orienteering?"

This time something came to mind immediately.

I'd been orienteering for a year or two when someone told me that I should always know my route to the next control by the time I find the control I'm looking for.

It seemed reasonable and I tried to follow the advice. But, after a while I stopped. In retrospect, it wasn't good advice. I think that might even be the worst advice I ever got.

Better advice would have been almost the exact opposite -- Don't even

think

about you next leg until you've found the control you're looking for. posted by Michael | 8:06 PM

---


Monday, April 11, 2005
Emma's weekend
I've quickly translated a bit of what Emma Engstrand wrote about her races on the weekend:

As long as you've got your head on straight, orienteering is easy. This weekend I got to experience what happens when you don't concentrate. My goal for the weekend's races was to have good O' technique. I failed. I ran well for half of the course on both days, but then made mistakes and ran more than I orienteered. That didn't work....a bit miss on each day followed by several smaller mistakes. The positive part of the weekend was that running felt good.


You can see Engstrand's maps with routes here. posted by Michael | 8:26 PM

---


Sunday, April 10, 2005
An odd course from Norway
Take a look at the long course for M21 from the Norwegian World Cup selection races.

When I looked at the map the first thought that came to mind was - "odd course." I think what struck me was how busy the course looked. The runners looped through the finish area and they went through one of those butterfly loops later in the course.

I also came across Arild Nomeland's routes on the course and read his comments. Nomeland liked the course. He wished that more long distance courses had 34 controls and a winning time of 75 minutes. I think he means what he wrote, but there's a chance that he was being sarcastic and I just didn't pick up on it (sarcasim in a foreign language is something I'm unlikely to pick up on). posted by Michael | 7:06 PM

---


Saturday, April 09, 2005
Where is Rostrup?
The Norwegian's are having World Cup selection races. I went over and looked at the results. I didn't see Rostrup's name. That seemed strange. What's up with Rostrup? I checked his web page and found out.

The more you train something, the better you'll be. That's especially true for orienteering. If you want to do well in a race, you need to prepare yourself so that you've got the best chance to get a good result. That's what I believe.

I've always had just a few goals that I prepare myself for. The chance of failing might be larger if you only focus on 2-4 races a year, but that is what I do....

Running the World Cup this year has never been important for me. I'm aiming for the Nordic Champs and the World Champs.

It turns out Rostrup and Anders Nordberg are skipping the World Cup selection races and training for the Nordic Champs.

Nordberg wrote:

The reason I'm not running the selection races in Sandnes [i.e. the World Cup test race] is that I won't run the first round of the World Cup in England in the beginning of May. I'll be using the time in May for training and preparation for the Nordic Champs...

My plan this year is to travel a little less and run fewer important races. Last year I ran a lot of races and it took a lot, both physically and mentally. I found it especially tough mentally to be trying to reach top form for the next important race, and in the fall of last year I'd had enough. So it took a long time to get my motivation back and to do high quality training, and that is something I'm trying to avoid this season. posted by Michael | 8:21 PM

---


Friday, April 08, 2005
Sprint map in Norway
Just a quick note tonight...check out a little sprint O' course in Trondheim, Norway. posted by Michael | 7:19 PM

---


Thursday, April 07, 2005
Tough...and a bit strange
In yesterday's post I wrote about a tough session at a Swedish national team camp. Emma Engstrand wrote about the same camp on her page today.

Engstrand posted a bit of the hill course. It is worth a look.

Engstrand also wrote about a theme of the camp -- be ready for the unexpected. During the hill session, Engstrand wore an eye patch for part of the session. The eye patch simulated getting poked in the eye by a stick. Not the pain, just the reduced vision. posted by Michael | 8:48 PM

---


Wednesday, April 06, 2005
A tough training session
Johan Modig wrote about a training session from the just completed Swedish team training camp. The runners started in groups of three. The first leg was common, with 100 meters of climb. From the first control there were 5 different downhill courses that returned the runners to the start, where they climbed back up and ran another of the downhill courses. Runners did the downhill courses in different order (sort of a forking system). The entire course was about 7.5 km with 500 meters of climb.

It sounds like a tough session and it gives you an idea of how the Swedish team is getting ready for Japan. posted by Michael | 8:18 PM

---


Tuesday, April 05, 2005
Saturday's middle race
I had a lot of fun at the middle distance race. Check out the map with Peter Gagarin's routes on the F21 course. I ran M21 but I haven't gotten around to posting the map.



More interesting than it looks



The orienteering was more interesting than it looks like from the map for two reasons:

1. The reentrants, ditches and gullies are steeper and deeper (and hence harder to cross) than you might guess by looking at the map.

2. The weather -- cool and rainy -- meant the terrain was slippery and tough to run through.

1 + 2 = more route choice options. Several times I went out of my way to avoid a gully or ditch that I'd normally have run through. I looked further off the line to see good routes.



How'd I do?



I usually have a couple of goals for most races. For the team trials, one goal was to finish ahead of someone who wanted to make the WOC team. It wasn't an important goal, just something for fun.

I had a good race.

The U.S. men who will run the WOC are: Eric Bone, Sergey Velichko, Dan Stoll-Hadayia and Boris Granovskiy.

I finished 38 seconds behind Eric and 8 seconds behind Sergey. I beat Dan by 40 seconds and Boris by 45.

Beating people who made the team exceeded my expectations. It felt good. posted by Michael | 8:05 PM

---


Monday, April 04, 2005
Friday's sprint race
I haven't done many sprint races. I didn't do any physical training specifically to prepare myself for a sprint. But, I spent some time in the two weeks before the race looking at maps, many of those maps for sprint races.

The day before I went to the race, I wrote a few notes:

Look for buildings. A lot of sprint courses seem to give you the chance to navigate by buildings and ignore all other detail.

Make sure you go to the next control. Lots of sprint courses criss-cross themselves and finding the start triangle can be tricky.

Look for chances to use doglegs. Lots of sprint courses give you options where the choices look equal, but one option gives you a dogleg.

Take a look at the sprint course (with Peter Gagarin's routes).

It turned out that all of the notes I wrote applied to Friday's race.

On most of the legs you could use a building to help you find the control or to get you headed in the right direction toward the next control.

The course criss-crossed itself and the course printing wasn't so easy to read. Figuring out where the triangle was and where the next control was mattered. Sergei Zhyk was disqualified because he didn't go to ten. He didn't see it on the map. Jeff Watson was disqualified for skipping 7, 8 and 9 for the same reason. Tim Good lost time trying to find the start triangle.

I had no trouble finding the next control or the start triangle. I don't think it is because of any specific skill or ability, I just was worried about it before the race. I also looked at an old map of the area the organizers posted and had a good idea of where to start looking for the triangle as soon as I turned the map over.

I had lots of opportunities to use doglegs. I don't know if it helped or not. I don't know if I picked any bad routes because of doglegs. But, it gave me a chance to see the runners starting ahead of me and behind me. On the way to the third control I saw Ted Good, who started a minute ahead of me, and had an idea that I was gaining on him (the splits show I'd made up 23 seconds by the third control. On the way to four, I saw Syd Reader on his way to three and saw that I'd gained on him (the splits show I'd gained 46 seconds by the third control).

Getting some quick feedback on how I was doing probably helped. It felt good to know I was gaining. Ted ended up beating me. He connected with a small pack of runners and they all picked up the pace (relative to me) a bit. I saw the pack on the doglegs, but never managed to catch sight of them from behind. I wish I could have caught their backs, I think that would have helped me push a bit harder.

Overall, I was pretty happy with my race, though I finished pretty far back. And, of course, it is always good to beat Tom Carr. posted by Michael | 6:36 PM

---
First notes about the team trials
I'll write more about the team trails later today. For now, here are a couple of thoughts: nice courses; more interesting terrain than it looks like from the maps; and lots of top U.S. and Canadian orienteers competed, so the level of competition was good. posted by Michael | 7:08 AM

---